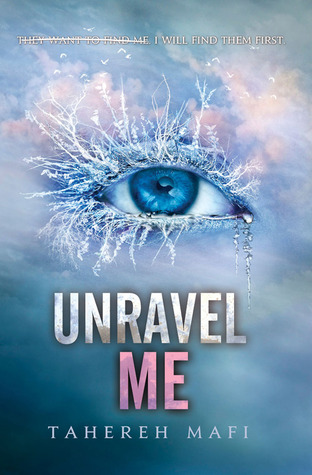 Title: Unravel Me (Shatter Me #2)
Author: Tahereh Mafi
Format: Hardback, 461 pages
ISBN:

0062085530
ISBN13:

9780062085535
Published February 4th 2014 by HarperCollins
Finished reading on May 23rd 2014
Review may contain spoiler for those who haven't read Shatter Me
.
Adam and Juliette were brought to Omega Point where there are a lot of person like her. Warner is still looking for Juliette. He wants her because he knows there's something in Juliette, something he knows too well. Omega Point has been preparing to fight against The Reestablishment for long time and now they're ready to fight. But Juliette needs to train and prepare for it.
Here, she figures out something about Adam, and something about Warner. Something she doesn't want to know, something she wants to refuse if only she can.
AHHHHH!!! OKAY IT HIT IT OFF!!!! It took me 2 days (not exactly, maybe around 7 hours divided into 2 days) but ahhhh!!! Seriously, once the second day began, I was just like loving it 10000x more than it has. The second book improved so well and things just got much better. Not about the plot but the way Tahereh Mafi wrote it, explain it, it's just slower but in a good way. I got to actually enjoy that moment and studied it then to another thing and, ahh it's soooo good!
I didn't expect that high anymore actually, because I was afraid it didn't go that well if I expected to high, but when I was 150 pages in, it's even more addicting. I can finally decided my favorite character. It had to be Kenji Kishimoto! Between all the crazy things happening, he was just too cute, funny, blunt and very lovely in his own way. There's another character actually, but mentioning him, will just reveal all the things! So just keep reading and I'll tell ya in the end of Ignite Me's review.
I really loved this cover. This is my favorite actually. I love winter so much, and as you can see, the eyes <3333 And to spoil a little bit more thing, there were more actions in this book more than the first one so, you know why I loved it so much.