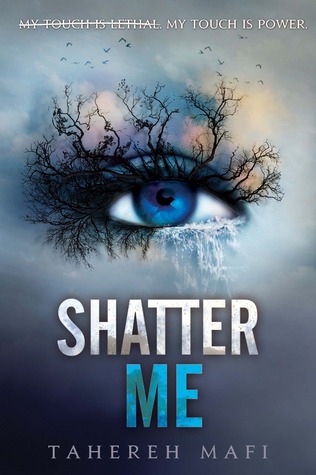 Author: Tahereh Mafi
Format: Paperback, 340 pages
Published October 2nd 2012 by HarperCollins
Finished reading on May 21st 2014
Juliette has been locked in an asylum for almost a year. She is locked because her touch is deadly. In the other hand, Warner, wants to make her as his weapon. He wants to use her as an advantage. Adam, Warner's soldier has been asked to do the task.
Juliette is taken to Warner's place, to the military base. But then she realizes that Adam is more than Warner's soldier. She knows him. Everyone is scared of her, because her touch, kills.
i think i need a new logo for sad theme
I'M SO SORRY, I can't do it without spoiling some parts of it. I had high expectation before starting this book, this series because everyone said it's a good series and just, perfect. I've heard that this book is about a girl who has deadly touch but that's all. So this whole review is basically my own thinking, I didn't read any other review(s) until it's written.
The first thing that caught my eyes, of course, the cover is just very gorgeous!! I really love it. Next thing that I realized when I was around 40 pages into the book was, the chapter was pretty quick. Some of it only has 4 or 5 pages, sometimes even only a page. I don't know what it's called but it's very unique for me. It also has like this-kind-of-thing, a lot. Again, it's pretty unique.
Tahereh Mafi's writing is so poetic
. It's not something that bothering to me, instead I found that it's beautiful. Her writing is a bit 'heavier' if I compare to other authors (let's say Kiera Cass or Veronica Roth), but then I really enjoyed it. There were a lot of Juliette's thoughts in it, I didn't think that it's bad thing but sometimes I just want more actions instead of thoughts. But it's not something bad, again, but different.
The characters have a lot of secrets. I mean maybe this was part of the idea of the book itself, but I want to know everything, girl! Sometime I was not patient enough to wait for them reveal their secrets. It made me read more and more. I can say that I didn't have any favorite character(s) even when I'm done reading it. Just like what I said, there were too many secrets *sighs*.
When I was ¾ of the book, I was thinking that it's too fast but it's too slow. Ugh I don't know how to explain this. Once I finished it, I made the word XD In such a short term, there were too many things happened. So I think if only this book was thicker, there were more spaces to explain more. I was just going to adjust with the new condition and things had changed again. Can you get me? I'm so bad at explaining DX
In the other hand, I found that it's so enjoyable. The way she wrote, the way the characters showed their feelings, and how things went (too quickie), I just simply loved it. I can't say this is the best, but I knew that I really wanted to continue. So I gave it 4/5 stars because I just…ugh, the first book keeps way too many secrets and I love the way it does!
Read my reviews of this series