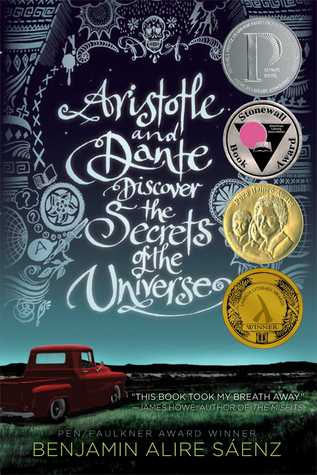 Title: Aristotle and Dante Discover the Secrets of the Universe
Author: Benjamin
Alire Sáenz
ISBN13:

9781442408937
Format:
Paperback
,
359 pages
Published April 1st 2014 by Simon & Schuster Books for Young Readers
Sometimes, all you have to do is tell people the truth. They won't believe you. After that, they'll leave you alone.
Ari has been lonely for his entire life. His mother thinks Ari has problem because he doesn't have any friend. It's not that Ari doesn't want for one, he just don't feel like getting one. Except for Dante who all of sudden enters his life and changes it bit by bit. Dante is completely different from Ari who always has self-doubt. They start to discover the secrets of the universe just then.
I picked this book because I heard amazing things from people, again. I had always resisted to buy this one because I knew the theme was friendship. I thought it would be boring, but nope. This is my first time reading this kind of book but it's not boring.
It's kinda flat from beginning 'til the end but there's something that made me kept reading.
I love how Benjamin could make Ari's thoughts alone stands up in this book. It's brilliant. There are a lot of amazing quotes that give me motivation, not in the way like teacher asks you to do things, but like how you finally realize what your mother has said were all true – lol my words HAHAHA.
There are a lot moral values as well, from friendship stuffs 'til family matters. It's a great book from high-schoolers like me. I think it's a worth it one to read!