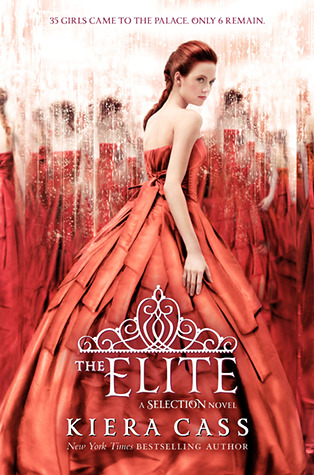 Title: The Elite (The Selection #2)
Format: Paperback, International, 323 pages
Published April 23rd 2013 by HarperTeen
Finished on May 13th 2014
America made her way to the top 6 and entered the Elite.

She had been Maxon's favorite. But then, she kept making Maxon waited. Even if Maxon was more than willingly to wait for her, but the other girls were still trying their bests to capture his heart as well.
Aspen in the other hand was still trying to get America's heart back to him. And when one thing happened, it ruined everything between Maxon and America, she was even more confused. America knew that things weren't going the same way like it used to be anymore.
ASDFGHJKL LE DAMN FEEELSSSSS.
If you follow my instagram, I'm sure that you've seen what I wrote about I needed to eat chocolate to calm myself down. Really. It started pretty well that I was pretty sure to get what I wanted. But suddenly, ugh, the twist drove me insanely crazy. Sometimes America really got me on my nerves, as well as Maxon. Or everything just got me on my nerves!
Most of the times I spent while reading the book was commenting on how things were going
. I was ready to explode. I knew I had to calm down to continue the rest of the book, so….sorry not sorry, I peeked XD really, it did calm me down, a little.
My favorite character, still Prince Maxon. At the end of the book, I can forgive whatever he did in this book and loved him again <333 *throws sarangs*. This book actually made me hate someone. And that had to be Kriss. Dear, whoever read this, please…I beg you to start the series if you haven't and feel what I felt!
I really loved Kiera Cass' writing style
. I didn't skip any parts (Except the asdfghjkl-I-can't-handle-it-anymore-part tho :p). Have I mentioned how friendly her writing was? I'm in love <3. The book cover, honestly I loved those girls on The Selection and The One more than this one, but she's still pretty.
Rating. Well. Rating… I was at the edge to give no star at all because of the emotions it caused. But then, it meant that I was so into this book more than the first one right? That also means, it caught my heart! It did!!! I'm attached to this series more than I thought. *Sighhhss* it deserved 5 stars. You read it well.

★

★

★

★

★

Just please Ms. Kiera, don't make me feel this again..just…I can't bear it if there's more.
ps: I really want to know if my non-formal review bothers you. I think that I love this kind of writing style to communicate with the readers, but I want to know your opinion too :D
Read my review of this series