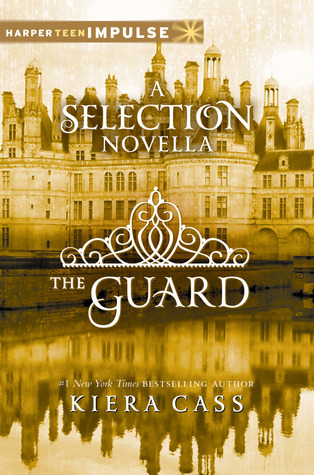 Title: The Guard (The Selection #2,5)
Format: eBook, 64 pages
Published February 4th 2014 by HarperCollins
Finished on June 1st 2014
Aspen was America's and America was his. Before she met Maxon, Aspen was her world. Aspen tried to make everything back to normal. But there's no 'normal' anymore. Aspen knew he needed to fight for America Singer if he wanted to make her completely his again.
Wait. I make the plot sounds like Aspen is bad guy, well he IS NOT. Aspen is very loving and caring type of guy. He knows what he wants and he will fight to get it.
Before I read this, I've read The Prince which's Maxon's point of view and that is one of the reasons I'm in love with him. But now after I read this……I'm like…
Nah..who am I in love with?
Both characters are different. They have their own personalities and in the end nothing's gonna change the story. But here I learned that America wasn't the one who's hurt and Maxon is not the one who's fighting. Because there's somebody who's hurt and fighting at the same time, and that person is Aspen.
I hate to feel sorry and wanting to change the storyline after all. Aspen is way too nice and loving. Now I hate seeing him hurt. But there's something that made me read this. it's about Aspen and Lucy…like how.
A friend who's read this before me said this book explained it all. But no. I still have billion questions to be answered. There are still mysteries to be discovered.
Well, at least I got to know Aspen and love him and want him in a different way I have for Maxon.
Thanks Kiera Cass. You screwed up my feeling once again.
4/5 for this heartbreaking one /sighs